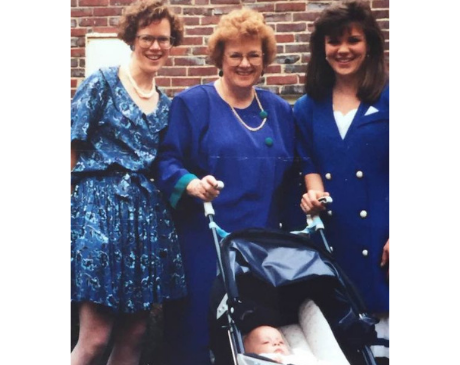 Smidgen Pigeon Origin Story
As the family story goes, our mother's pet name for my sister and I was "Pigeon" or "Pidgey". If we were sick or sad it was "Smidgen Pigeon" or "Smidgey". As we got older, we ribbed our mom for giving us a pet name of a dirty-bird, but we adored it – as much as we loved teasing her! Our mom passed away in 2000 and we are both still affectionately "Pigeon" to one another in times of love and consolation. So, collectively we are Smidgen Pigeon. Smidgen Pigeon has been through some rough times in her life, and she shouldn't be messed with, but she also has a tremendous capacity for love, and can find humor in all the things life throws at her! Color and fashion bring her joy.

Fast forward to the doldrums of the recent quarantine
I came across an article about tie dye that piqued my creative curiosity. After a couple of months of research on the craft, I ordered a few professional grade dyes and made shirts for my family, and they were cool! I kept on dying clothes (mostly upcycled, I love upcycling!) for friends and for gifts, and soon began to receive orders for something I found solace in doing. Now a joyful gift-giving project has evolved into the Smidgen Pigeon garment business. You can find Smidgen Pigeon online, in community events, and pop ups. This Pigeon has fledged, and I couldn't be more thrilled!
About Doreen
I design and dye each item with professional dyes using a variety of ties, techniques, and color combinations. When I'm not dying clothes or out seeking the perfect pieces to upcycle, you can find me working as a nurse, my first passion. Downtime is for hanging with my husband, Ed and dog, Marty, most likely boating somewhere on the Chesapeake Bay.